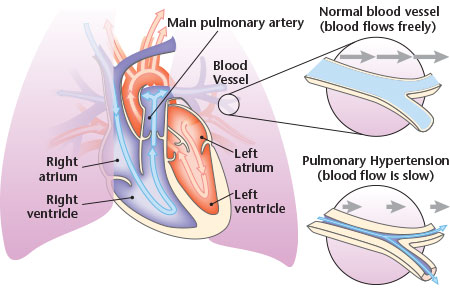 When it first came out, Viagra was already considered to be an amazing achievement. No other drug had been so successful in counteracting erectile dysfunction until Viagra appeared and gave a new lease on sexual activity to aging, sick, and unfortunate men worldwide. What's even more surprising and impressive about this drug is that it's the gift that keeps on giving. Numerous studies have shown links between Viagra use and various health benefits. One of these benefits has even been approved and patented recently – treatment of pulmonary arterial hypertension.
Viagra was approved by the Food and Drug Administration for the treatment of pulmonary arterial hypertension (PAH) in adults in 2005, but a recent study has shown that it may also be suitable for the treatment of the same condition in kids. Pulmonary arterial hypertension is a relatively rare disease that causes patients to experience elevated blood pressure in the lung vasculature, a system that includes the pulmonary vein, capillaries, and artery. If left untreated, PAH puts great strain on the respiratory system and the heart. Initial symptoms may include shortness of breath, fatigue, fainting, dizziness, cough, and swelling of extremities. Due to the vague nature of these symptoms and the relative obscurity of the disease, diagnosis is usually a complex process consisting of several tests. These may include electrocardiography, x-Rays and miscellaneous scans, toxicology reports, venous blood submission, and arterial blood gas measurements.
While the effect of Viagra on adults is well-known even when it comes to PAH patients, a professor at the Columbia University in New York City wanted to see if the same would hold true for children, so he gathered a group of researchers and began his study. This study included 105 children up to seventeen years old, all of which were supplied with standardized doses of Viagra. The regular administration took place over the course of sixteen weeks, during which the research team monitored the physical fitness of the patients and their exercise ability. It should be noted that a portion of the children took a placebo drug for future comparisons of the drug's effectiveness vs. the effectiveness of the placebo.
In the end, indicators of the children's' exercise ability showed improvement of lung function and greater ease in carrying out difficult physical tasks. Dr. Robyn Barst, who headed the research, noted that while the drug was effective in producing the same effect on children as it did for adults, it did not protect them from the side effects of taking drugs primarily meant to be sexual enhancers. The biggest concern in this regard was priapism, a condition when the penis remains erect for an excessive amount of time. This is a very painful and dangerous condition that can only be resolved with professional medical care. However, most side effects in kids were avoided after dosage was lowered to reasonable levels.
Although this study was somewhat limited in scope, it's results still bear weight and may serve as an example and basis for future research and FDA approval. If the issue of pulmonary arterial hypertension in children attracts enough attention, there is a high chance that the beneficial pressure-reducing qualities of Viagra will be thoroughly examined and adapted to give kids the treatment they deserve, and that which will make them feel normal and healthy. It would be even better if the same effect could be achieved with generic Viagra (get more information here), which is much more affordable and easier for patients to obtain.
Article by My Canadian Pharmacy Team: http://www.mycanadianpharmacyrx.com