Generic Xopenex (levalbuterol tartrate) for Asthma and COPD: Proper Use, Warnings, Contraindications, Side Effects, Customer Reviews
---
CONTENT
---
General Information on Xopenex Generic
This is a brand name of levalbuterol – a beta agonist drug with bronchodilating and muscle relaxing action, which improves air flow to the lungs due to relaxation of muscles. It's used in patients suffering from reversible obstructive airway disease or asthma for preventing/treating bronchospasm, including acute bronchospasm episodes and asthma attacks.
This is an inhaled kind of medicine – a one intended for use with an inhaler or a nebulizer. Its purpose is relieving and preventing coughing, shortness of breath, wheezing, chest tightness. The drug was approved by FDA in 2005.

How to Use Xopenex: Inhaler and Nebulizer, Inhalations Frequency, Missing a Dose
The drugs can be used by adults and children starting from six years of age, when it comes to nebulizer use. As for inhaer/aerosol, it can be used in four-year children and older. Children taking this drug have to be supervised by adults.
The treatment scheme is individual for each patient. Typically oral inhalations are made three-four times daily, or once in six-eight hours. As for aerosol inhaler, it is usually prescribed for intake after every four-six hours.
Use the drug as prescribed; don't take smaller or larger amounts upon your own hook. Don't ignore instruction sheets and patient information given to you and read them attentively.
In case of missing a dose, it's recommended to take it when you remember; but if the next doses' time has almost come, skip the missed one and take the next scheduled dose. Avoid simultaneous intake of two doses.
It's important to take Xopenex properly, so it really gets into lungs. So consult with your doctor concerning proper nebulizer/inhaler use.
If a patient doesn't respond adequately to a certain dose, the doctor may decide to increase it.
If you feel better, continue using the medicine, because the treatment has to be completed to give stable results.
Use of inhaler
If it's going to be your first inhaler use, prime it. First pump the spray four times into the air for test, shaking the inhaler well before each spray. If you haven't used it for more than three days, prime it again. After shaking the inhaler uncap its mouthpiece, breathe out, then place the between the closed lips. Keep pushing down on the inhaler, while breathing slowly. After 10-second breath-hold, slowly breathe out.
If you have to do several inhalations at a time, make a one minute pause between them.
Store the closed, dry and clean inhaler with the mouthpiece down, at room temperature. Once a week remove the canister to clean the mouthpiece under warm water. After complete drying out, put the device back together again.
An inhaler with an indicator displaying 0 has no more spray in it and should be thrown away.
Use of nebulizer
A concentrated drug solution is used with a nebulizer. The concentrate should be mixed with a diluent (liquid), which can be recommended by a pharmacist.
After opening the foil pouch, fill the nebulizer's chamber with the drug, and add a prescribed diluent amount. The mouthpiece/face mask attached, join the chamber and the compressor. Sit straight with the mouthpiece in the mouth or with the face mask put on, mouth and nose covered. Then turn on the compressor and keep on breathing in an evenly and slow way, until the nebulizer's chamber gets empty. Each plastic vial and has to be thrown away after single use even if it's not completely empty.
The nebulizer should be cleaned each time after use, read the instruction for information about cleaning.
Store the vials in the foil pouches in order to be protected from spoilage, at room temperature, without exposure to light/moisture/heat.
Contraindications and Precautions: Overdose, Certain Health Conditions, Pregnancy
Some categories of patients should abstain from using Xopenex, like those who have allergy to albuterol or levalbuterol.
Inform your doctor if you have health problems with heart or blood pressure, overactive thyroid, diabetes or a seizure disorder. Give him/her the list of all the medications you're already using, especially other bronchodilators, antidepressants, diuretics, blood pressure or heart medicines.
The levalbuterol effect on the fetus or a little baby is unpredictable. Tell the doctor if you're pregnant or breast-feeding.
Never take larger doses of Xopenex or take it more often than prescribed, because levalbuterol overdose can be dangerous and even life-threatening. If you suspect an overdose, call emergency for medical help.
It is recommended to avoid allergens and unfavorable conditions during treatment with levalbuterol: breathing in dusty places, smoking, doing physical exercises outdoors in dry or cold weather.
Aerosol inhalers must not be used close to heat sources, because of the danger of explosion.
Interactions: Combining Xopenex with Other Drugs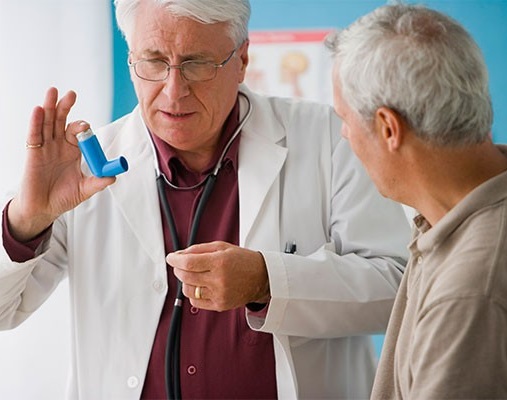 It is recommended to be cautious if you use any other medications besides Xopenex or have just stopped using them.
Tell the doctor if you're going through any treatment with any drugs, especially if you take:
MAO inhibitors (such as tranylcypromine, phenelzine, isocarboxazid, etc.);
other inhaled medicines for treating COPD or asthma;
medications for treating heart;
diuretics;
antidepressants;
medicines for colds treatment.
This list is not full. If you take dietary supplements, herbal remedies, vitamins, over-the-counter medications, also inform your doctor.
Side Effects and Allergic Reaction to Xopenex
Sometimes levalbuterol causes adverse effects, the most common of them are:
sore throat, running nose;
vomiting;
irregular heartbeats;
chest tightness or pain;
nervousness, dizziness, tremor,
There may also be other side effects:
headache;
weakness;
diarrhea;
fever;
cardiovascular effects: impaired heart rate, increasing of falling blood pressure;
detiorating asthma symptoms;
breathing problems, choking, wheezing;
hypokalemia symptoms: muscle weakness, tingling, numbness, extreme thirst, constipation, increased urination, leg cramps, fluttering in the chest;
paradoxical bronchospasm.
If any of these happen to you, call your doctor so that he/she can take measures, adjust the dose, change treatment or provide medical help if necessary.

The doctor should also know about you experiencing signs of allergy to levalbuterol: difficulty swallowing, swelling of the tongue/lips/throat/face/hands/feet, breathing problems, itching/hives.
Reviews for Xopenex – the Customers' Experience
Those who have already used the drug, share their experience in the Internet. For one category of asthmatic and COPD patients, it works well and causes no or minimum side effects. For many Xopenex (levalbuterol) turned out to be a good alternative to albuterol (and other drugs of similar action), in case the last one was not effective enough for them or caused bad reaction and side effects (such as heart racing). They find that Xopenex relieves the symptoms quite well and works fast.
And some people are not as responsive to levalbuterol as they expected, and they need higher dosages or complex treatment with use of other drugs. A choice of the right medication is always a very individual issue.
Ordering Generic Xopenex at Online Canadian Pharmacy
Today's customers have a great advantage – they have the opportunity to find any medication, even a rare one, or the one that is absent at a person's local drugstore at the moment. There's no need to leave the house to order any necessary drug – just search through conveniently organized categories to find high quality medications you need. An online service of Online Canadian Pharmacy offers a wide assortment of drugs for treating various health conditions, including anti-asthmatic drugs, such as Xopenex (levalbuterol). Only trusted and reliable pharmaceutical companies are presented here, and the ordering process is simple and clear. Still, if you have any questions, feel free to address the customer support for any consultation.