Priligy (Dapoxetine) – All information, How to use, Contraindications, Side Effects and Benefits Tips, Where to buy online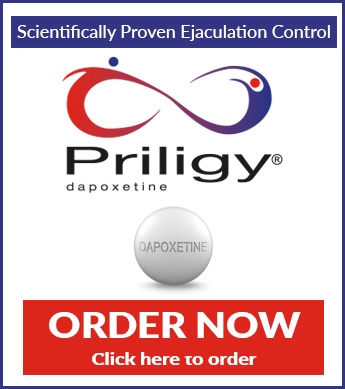 What is Priligy used for?
Priligy is an oral medicine used to treat a marked premature ejaculation (PE) in men aged between 18 and 64. PE is manifested as having an ejaculation before having completed a mutually satisfying sexual act, or before either of the partners would like it to occur. This issue is known for causing shortcomings in sexual life and relationships, as well as set grounds for frustration and complexes. When a man experiences orgasm with too little sexual stimulation, before penetration occurs or shortly after it and has a problem controlling or postponing this process, one can talk about PE.
Priligy contains dapoxetine hydrochloride, the main medicinal component that helps to postpone the moment of ejaculation in a way that is desirable for the patient. The drug gives an ultimate control over coital length and duration, essentially improving the quality of the sexual experience in both partners. Dapoxetine hydrochloride is a selective serotonin reuptake inhibitor (SSRI) preparation that affects and balances the levels of serotonin in the brain, thereby providing a centralised action.
What is unique about Priligy?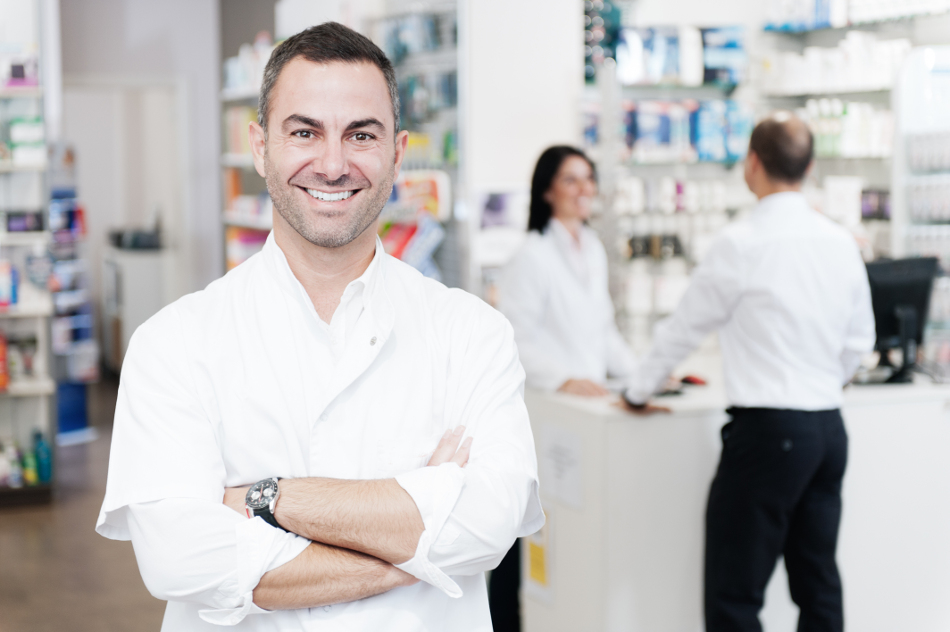 Priligy is a unique drug by the very definition; it is the first-ever solution for PE to have hit the market. Ever since the time the preparation was introduced and became available for customers, it's been a major game-changer. No more frustration and performance anxiety associated with inability to conduct a sexual act for a period of time long enough to satisfy a partner. Contrarily to a popular belief, premature ejaculation is not a condition that befalls only young men in their teens; it is an issue that can be equally found in mature patients of varied age groups.
Since this problem is closely connected to the psychological condition of a patient, but also being largely dependent on the chemical balance of the brain, thyroid conditions, hormonal imbalance, urological problems, hereditary patterns and traumas, dapoxetine contained in Priligy is an ideal solution to correct this disappointing behaviour.
Priligy is available as a generic solution, to give you a fair choice when it comes down to picking a brand over generic or vice versa, based on how much you are willing to pay for the name of the manufacturer. Generic edition does not differ from the brand one in any essential way but the name, the appearance and, of course, the price factor.
How is Priligy taken?
Priligy is a drug for oral administration. Your prescriber will start dapoxetine therapy with the minimal dose of Priligy 30mg and increase it in case of necessity as your therapy advances. It is recommended to take a dose of Priligy between 1 and 3 hours prior to the anticipated sexual activity. Take a pill with a full glass of water; do not crush it in your mouth or chew it. Swallow a tablet whole. Choose to take the pills with or without food based on how well you tolerate the drug taken on an empty stomach.
The drug is not intended for an extended therapeutic course. Do not take more than one single recommended dose of Priligy within the 24 hours' period. Priligy is only taken before engaging in sexual activity. The dosage should only be established by the prescriber and only increased in the event of insufficiency of the precedent dose and given that no major adverse events were manifested during the implementation of a lower dose.
Make sure you see your practitioner at least every six months in case you take Priligy continuously. There is no data as for the long-term effects of dapoxetine in patients taking the drug regularly for a prolonged period of time (lasting longer than 24 weeks).
How does Priligy work?
Priligy belongs to the class of serotonergic drugs called SSRIs, selective serotonin reuptake inhibitor. Dapoxetine found in the structure of Priligy inhibits the activity of the transporter proteins that normally removes serotonin from synapse gap. The drug thereby gives rise to an enhanced serotonergic activity. Serotonergic effect is probably stronger than the tricyclics, excluding Anafranil / clomipramine. It exhibits no or little effect on the norepinephrine transporter, or cholinergic, histaminergic, and noradrenergic receptors, nor any direct effect on serotonin receptors.
Serotonin is a neurotransmitter in the body as in the gastrointestinal tract, in the platelets and in central nervous system. Serotonin in the gastrointestinal tract regulates bowel movements while serotonin in neurons of the central nervous system has a number of functions, including regulate mood, appetite and sleep, as well as affect cognitive functions such as memory and learning.
SSRIs are considered to increase the extracellular (outside the cell) level of the neurotransmitter serotonin into synapses in the central nervous system by preventing or delaying its reuptake. This causes the nerve impulses that are transmitted with the signal substance is enhanced. Serotonin is a neurotransmitter that enhances the feeling of well-being, which thus means that the patient's perception of their situation changes in a more positive direction.

By levelling the amount of serotonin, dapoxetine increases ejaculatory latency. Intravaginal ejaculation latency time is thereby increased and can be extended for as long as it appears satisfactory for the patient to postpone the moment of orgasm. Priligy acts only as a pre-coital solution, not providing a long-term recovery effect with a continuous use.
Priligy Dosage
The drug is available in two dosage forms of 30mg and 60mg. It is recommended to initiate the treatment with dapoxetine at the lowest dose of Priligy 30mg. If this proves to be insufficiently effective and given that the previous dose is well tolerated. Increase your dose only in case your prescriber approves. A dose increase to Priligy 60mg provides additional risks of increased side effects. It is not allowed in persons with underactive CYP2D6 metabolizer function.
Priligy contraindications
Priligy should only be used in individuals in whom intravaginal ejaculatory latency time is less than 2 minutes, as well as those experiencing recurring and repeating PE issues that provoke ejaculating before the penetration or within two minutes after it, causing the patient's distress or interpersonal difficulty as a result of the condition. The drug should not be taken outside of the age group between 18 and 64 and is only recommended when the persistency of PE occurrence was manifested with every sexual attempt during a period of the recent 6 months.
Priligy is contraindicated for the use in patients with the following conditions:
• Arrhythmias and conduction disorders;
• Heart failure;
• Heart disease, including syncope history;
• Bipolar disorder;
• Mania;
• Depression;
• Liver disease.
The list of Priligy contraindications given here is not complete. You should ask your physician for a more elaborate list of conditions that are incompatible with the use of Priligy before you start your therapy.
Priligy and other drugs
There is a number of medicines, concomitant use of which with Priligy is not allowed. Below you will find some basic guidelines as to which drugs to avoid while taking dapoxetine preparation. However, this list is not a complete manual but rather an outline, so consult your practitioner for more details. You should also inform your prescriber if you are currently taking or plan to take in the future alongside with Priligy any other medicines, be it prescription drugs, OTCs, herbal solutions, vitamins and food supplements.
• Monoamine oxidase inhibitors (MAOIs);
• Thioridazine;
• St. John's Wort;
• Other SSRIs;
• Norepinephrine reuptake inhibitors (SNRIs) – L-tryptophan, triptans, tramadol, linezolid, lithium;
• CYP3A4 inhibitors (drugs containing such medicinal components as ketoconazole, itraconazole, ritonavir, saquinavir, telithromycin, nefazadone, nelfinavir, atazanavir);

• Medicines lowering blood pressure, such as nitrates, alpha blockers, adrenergic receptor antagonists, ED drugs, etc.);
Priligy is incompatible with ethanol, therefore simultaneous use of dapoxetine and alcohol is prohibited.
Priligy side effects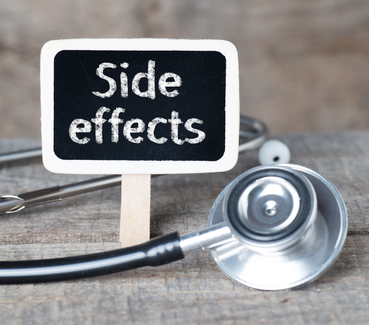 Priligy generally features mild side effects. Is, however, in a high percentage (20-50%) cause sexual dysfunction (anorgasmia, decreased libido, ejaculatory latency extended), which can be a significant concern, especially when long term therapy. Sometimes, but not always, reduce the sexual side effects with time, despite continued medication. Provides initially often nausea, and sometimes anxiety reinforcement; These side effects tend to subside with time.
Other adverse reactions:
• Sweating;
• Sleep disorder;
• Weight gain;
• Weight loss.
Priligy maximal benefits tips
Your physician should appraise the benefits of dapoxetine therapy in your individual case after 6 weeks of use, but no sooner than 6 consecutive intakes of the drug, to determine the prevalence of the benefits over the risks. The only effect in terms of the difference between the various SSRIs that can be considered to be proven is that Prozac / Seroscand often give weight loss than weight gain; for other drugs, weight loss and weight gain about as common. Prozac / Seroscand also substantially longer half-life than other preparations, which can be both a drawback and advantage.
Moreover, many clinicians the impression that the various SSRIs certain extent different from each other in terms of both effectiveness and side effects, but no such difference is not considered to be scientifically documented.
Where can I buy Priligy?
Since the cost of Priligy, and basically whichever any drug out there, is a subject to a cracking price gap when you compare different supplier, we created this resource where you can monitor the best deals on Priligy available on the Internet. We select only the best suppliers and e-pharmacies to be represented at our website. We scan an enormous number of available offers and quote the best ones so that you could pick an offer that meets your expectations of quality as well as fits your budget planning. With suppliers like Canadian Pharmacy at www.mycanadianpharmacyrx.com you will not only enjoy essential quality of the products ordered, but will be enrolled in a loyalty program starting from the very first order. This will grant you free access to bonuses, mark-downs, discounts and paperless coupons. Choose this or any other option to buy Priligy in Canada online from a miscellanea of options made easier and more available with the help of our price aggregator.
---
Priligy FAQ
Q: How often do I need to take Priligy?
A: Priligy is only taken as needed, before anticipated sexual activity. There is no data proving therapeutic benefits of continued scheduled use of the drug. Take one pill of Priligy during the period between 1 and 3 hours prior to engaging sexually to allow for the medicine effects to onset.
Q: What dose of Priligy is right for me?
A: A licensed practitioner should establish a minimal effective and maximal allowed doses for your particular case. It should be appointed proceeding from the results of physical examination, laboratory tests and individual response.
Q: Is Priligy compatible with alcohol?
A: Since Priligy main component is dapoxetine, which is SSRI inhibitor and affects chemicals in the brain, it should not under any circumstances be used in combination with alcohol.
Q: Can I take Priligy and Generic Viagra together?
A: Generic Viagra and Priligy can be used together safely if there are no other contraindications as stipulated by your healthcare practitioner. Since ED is often found as a reason for PE, the two drugs work great together, complementing each other's action. Viagra is also known to decrease penile sensitivity to a certain extent, it can provide some additional benefits for PE patients.
Q: Priligy not working: what should I do?
A: In the clinical studies, Priligy efficacy was estimated at 68.8% for pills containing 30mg of dapoxetine and 77.6% for pills containing 60mg of dapoxetine. This means that it is not going to work in some individuals, and it is perfectly normal. If you experience no effects of the drug, it is advised to consult more specialised healthcare practitioners, since the true reasons for PE are difficult to establish with precision. With a carefully chosen combined therapy that targets the underlying disease, PE can be successfully overcome, and Priligy can still be part of this conditioning.